2nd EUROPEAN CHEMICAL RECYCLING CONFERENCE - "Technology development through key collaborations"
Registration is now open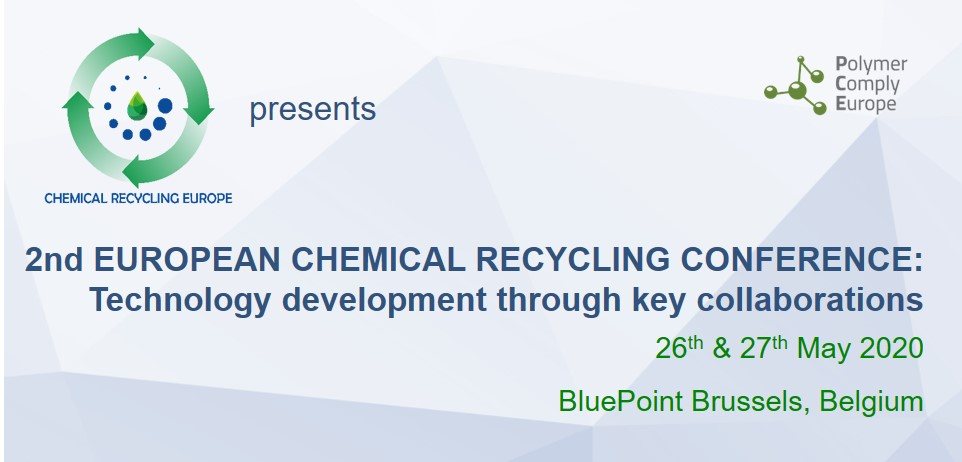 Chemical Recycling Europe (ChemRecEurope) is pleased to announce the 2nd edition of its ​ European Chemical Recycling Conference: "Technology development through key collaborations" supported by Polymer Comply Europe (PCE) on the 26th & 27th of May 2020 in Brussels.
Let us discuss the challenges, latest developments and future of chemical recycling with experts from the industry, research institutes, European and national authorities. ​
​A networking cocktail will be held on the evening of the 26th of May.
Register here
Main topics:
CHEMICAL RECYCLING: A COMPLEMENTARY SOLUTION FOR TODAY AND TOMORROW
​- Why does chemical recycling matter?
​- Financing the infrastructure required for further development
CHEMICAL RECYCLING: FOOD CONTACT APPLICATIONS
​- Appropriate regulatory framework to ensure safety of food contact plastics
​- How do we ensure the safety and circularity of food contact materials?
​- The key role of chemical recycling in circularity of flexible packaging
CHEMICAL RECYCLING: THE EU NATIONAL PLASTICS PACTS AND WASTE MANAGEMENT SYSTEMS
​- Chemical recycling in national legislations
​- Coordinating waste management strategies
​- End of Waste and REACH: a real regulatory challenge
CHEMICAL RECYCLING: A NEED FOR GLOBAL COLLABORATION
​- Contribution to establishing circular waste management infrastructure in less developed countries
CHEMICAL RECYCLING: STATE-OF-THE-ART, ENVIRONMENTAL IMPACT AND STANDARDIZATION
​- Chemical recycling: a young industry willing to grow fast
​- Chemical recycling Europe: Your voice in Brussels
​- Life Cycle Assessment of chemical recycling technologies (a comparative study
CHEMICAL RECYCLING: PROOF OF INCORPORATION
​- How to verify sustainability claims and incorporation of chemically recycled feedstock
​- Mass-balance standardization
​- Bringing Artificial intelligence to chemical recycling: improving recyclability
Poster Session
ChemRecEurope kindly invites you to submit an abstract for the poster session of the conference. In our discipline, posters are valued as highly as talks because they are better suited for in-depth discussion and receiving feedback on on-going research. The conference organisers would like to encourage submissions from scientists from both industry and academia on the recent developments in the area of chemical recycling. ​
​​
​You can find guidelines for the poster session here:
Poster session guidelines
PDF - 152 Kb
Download
Date and time: The conference starts at 12.30 26th of May, ends 17.30 27th of May
Location: BluePoint Brussels (80 Bd. A. Reyers 1030 Brussels)
Contact us if you are a university student for a discount ticket
Detailed programme will follow soon.
We are looking forward to welcoming you to our conference.